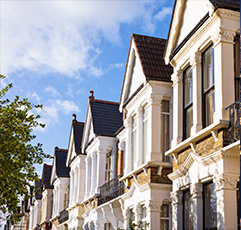 How we work with leasehold properties
The Leasehold Reform, Housing and Urban Development Act 1993, as amended by the Commonhold and Leasehold Reform Act 2002, entitles a group of leaseholders to purchase the freehold of their building, or to extend their individual lease.
We provide specialist valuation advice for both freehold purchases and lease extensions.
Following a Valuation Report the leaseholder(s) may then serve notice of their intention via their legal adviser, assuming they are a qualifying tenant. A period of negotiation then begins with the intention of agreeing an acceptable premium between the parties.
We work on a fixed fee for our valuations
Negotiating and representation at Tribunal hearings charged at an hourly rate.
The services we offer include: